Download ClanPlay: Clash Community and Tools for Gamers APK Info :
Download ClanPlay: Clash Community and Tools for Gamers APK For Android, APK File Named com.clanplay.clanchat And APP Developer Company Is ClanPlay . Latest Android APK Vesion ClanPlay: Clash Community and Tools for Gamers Is ClanPlay: Clash Community and Tools for Gamers 1.14.3 Can Free Download APK Then Install On Android Phone.
ClanPlay: Clash Community and Tools for Gamers APK Description
The best companion app for CIash Royale where you can improve your game with access to constantly updating chest prediction! Find tournaments, recruit players and reach the experts for advice on your deck and strategy in the public chat rooms! ***This content is not affiliated with, endorsed, sponsored, or specifically approved by Supercell and Supercell is not responsible for it. For more information see Supercell's Fan Content Policy: www.supercell.com/fan-content-policy*** There is no time restriction on updating your chests - refresh it as often as you'd like! Amaze your friends and clan leaders with your CIash Royale stats when you link your CR account; Allowing you a quick and comfortable way to track your trophies crown wins, donation, tournament stats and more! Gather your friends and meet new ones as you become the ultimate Clasher! Lead your clan to victory and rule the leaderboards with advanced features and outstanding Clash Royale tools, that will take your gaming to the next level! Link multiple Clash accounts and chat with your friends using your in-game name. Automate your Clash's clan management with great tools that keep your clan's chat room organised and secured from spies! Securely connect and verify your Clash accounts by performing a quick in-game task, and enjoy ClanPlay's advanced features that will help you take your games and your clans to the next level. Take advantage of the chests cycle tool to decide if you should invest time or gems to unlock the next chest just before going to bed, and check out when is the next special upcoming chest. Access public chat room and discuss a variety of game-related topics, from the current Clash Royale meta, Hog-cycle and Lavaloon tactics and most effective farming or trophy base layouts for your current town hall level, to following your favourite CR and Clash tournaments and leagues. Sometimes clan leaders have to speak with their members privately. ClanPlay allows players to open private chat conversations and groups, apart from their clan. You can chat with other ClanPlay members directly even if they are not part of any clan. If they are using ClanPlay, you can talk to them! Using ClanPlay gives Clash players the edge they need to win Clan Wars and top the leader-boards efficiently by letting you focus on developing brilliant strategies using our image drawing tools and discussions while keeping your clan chat hidden from spies as everyone uses their real in-game names and verified accounts. Don't wait for your clan to fall apart because you lack the tools you need to succeed. Download ClanPlay today, win Clan Wars and complete clan chests together and let all other clans eat your dust!
From version ClanPlay: Clash Community and Tools for Gamers 1.14.3
:
Added: 2018-03-08 10:00:47
Modified: 2018-07-07 18:41:46
Updated: 2018-07-07 18:41:46
* Recruit to your CR clan by sharing your clan invite link in the recruitment room! It will now turn into an awesome banner and impress future members!
* Watch youtube videos and streams directly within the chat by pasting the youtube link in any of the chat rooms!
* User our new FAQ! Didn't find the answer you needed? Contact our support in-app, and we'll get back to you!
* Speaking Arabic, Portuguese, Hebrew or Italian? We've just added UI localization for your language!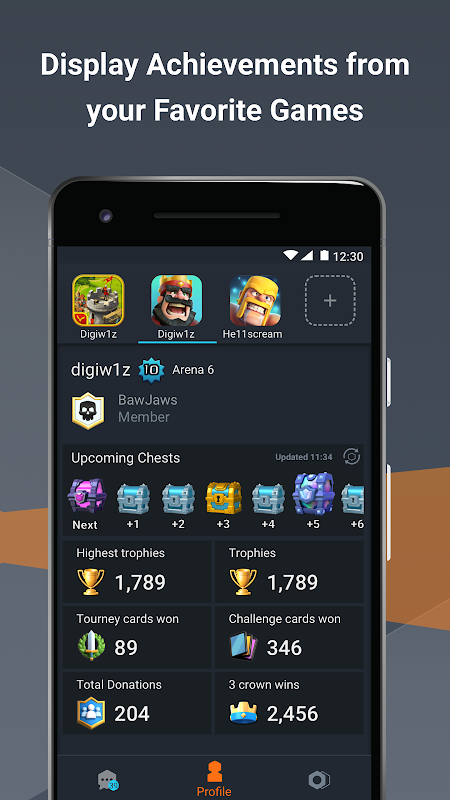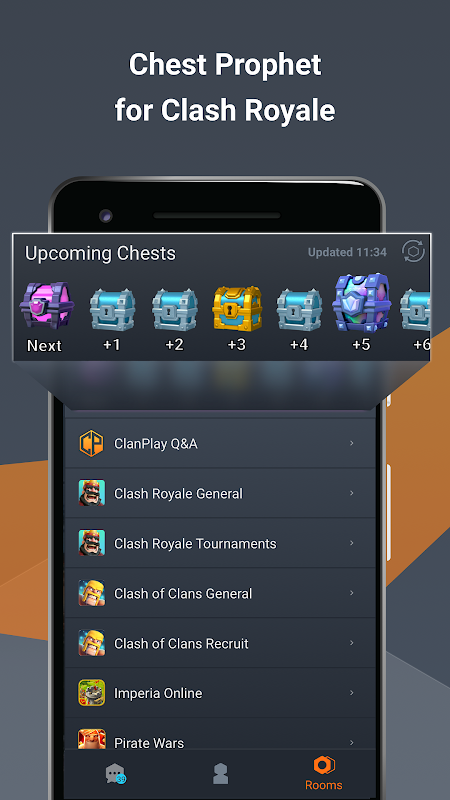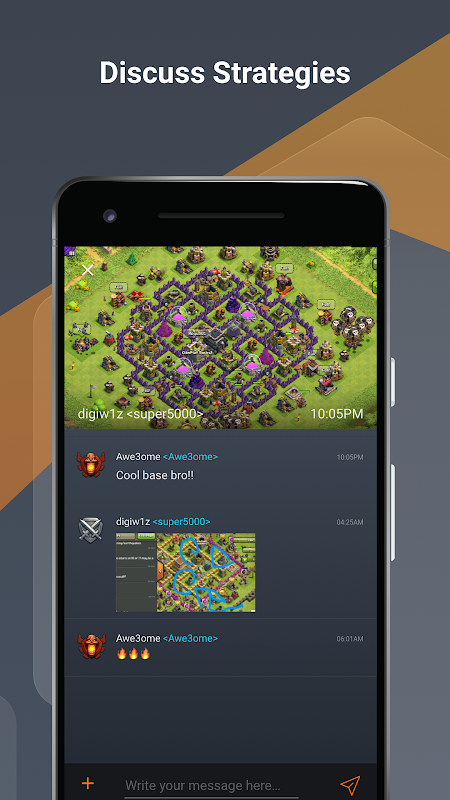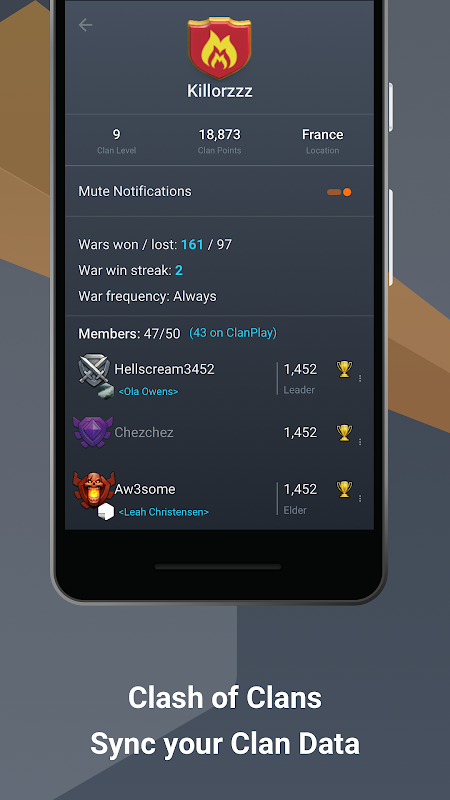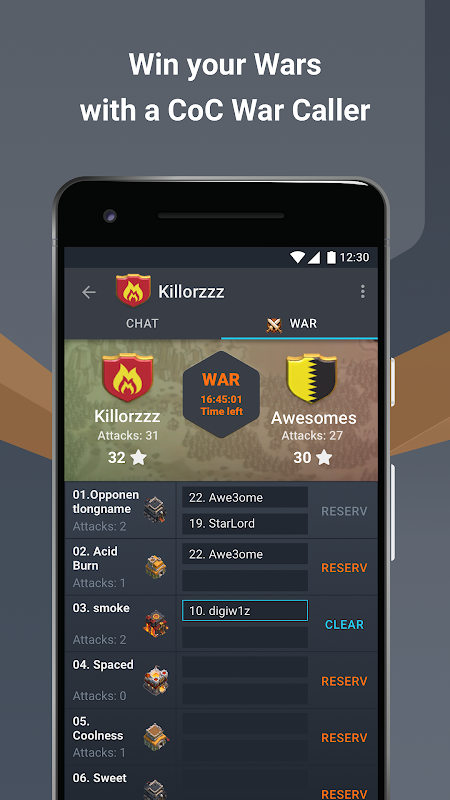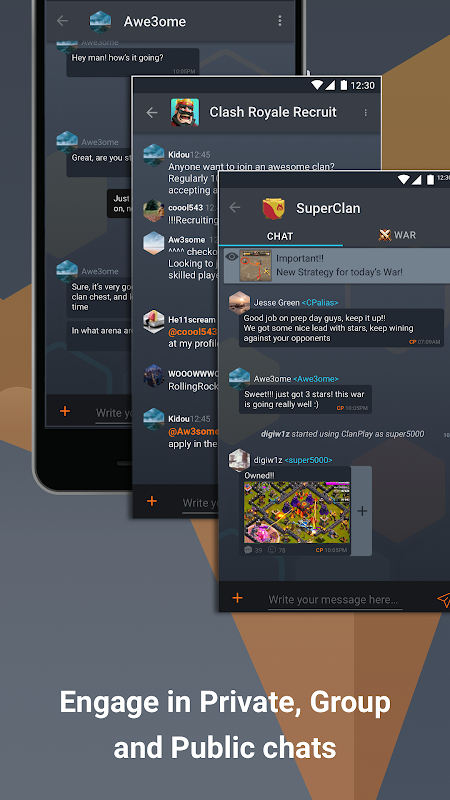 funciona esse tal de escolher baú?
Related For ClanPlay: Clash Community and Tools for Gamers